Overview
When most travelers think of Switzerland, they think of the snowy Alps, delicious, rich chocolate, and beautiful watches and jewelry. However, Switzerland has so much more to offer travelers, including gorgeous scenic drives, interesting places to visit and things to do, as well us some of the best culinary delights in Europe.
Brief History
Since the 13th century, Switzerland has held itself apart from global wars, understood and respected by surrounding countries. Switzerland remained neutral during the two world wars and is most known for her international organizations, peacekeeping endeavors, and promotion of human rights.
Languages and Religion
Due to ethnic diversity, a number of languages are spoken in Switzerland. The official and national languages of the country are German, Italian, French, and Romansch, but other minor and ethnic languages are also spoken. Religious diversity is also recognized in Switzerland. Most inhabitants of the country follow the Roman Catholic Church or belong to Protestant and other Christian denominations. A small percentage of Swiss residents are classified as Muslim.
Climate
The climate in Switzerland is pleasant and mild in summertime, and downright chilly in the wintertime. In general, summers are warm and humid but autumn is the driest season of the year. Nevertheless, visitors to Switzerland should be prepared for any type of weather as climate and weather conditions are relatively unstable, regardless of season.
Places and Cities to Visit
Home to over 100 mountain peaks averaging 13,000 feet, Switzerland is best known for skiing and mountain climbing opportunities.  Switzerland's best-known mountain peaks include the Matterhorn, and Monte Rosa Eiger, and Jungfrau; all attracting hundreds of avid skiers, ice climbers, and mountain climbers and hikers every year. Whether you want indoor or outdoor activities, Switzerland has something to offer.
Admire medieval architecture and a clock tower built in the 13th century in Bern.
Visit the Chillon Castle near Montreux on the eastern side of Lake Geneva. It's the most famous castle in Switzerland.
Take the Glacier Express for an unforgettable tour of some of Switzerland's most famous Alpine scenery. The rail line extends between St. Moritz and Zermatt in central Switzerland.
Stay at some of the most popular resorts beneath the shadows of Switzerland's most famous Alpine mountains that include the Matterhorn, Weisshorn, and Dom.
Take a ferry or lake cruise on Lake Zürich or Lake Constance, which offer visits to shore-side towns in Germany and Austria.
Spend a day or two in Zürich, the largest city in Switzerland and home to Altstadt, or Old Town. Zürich offers a number of cathedrals, the Swiss National Museum, and a number of art galleries that will keep you busy and entertained for hours.
Car Hire Services
Be aware of the rules and regulations of renting a car in Switzerland, as well as across the border on the French or Swiss side of Lake Geneva and the Geneva International Airport.   Most rental cars obtained in Switzerland can cross borders throughout Western Europe without any restrictions, but the same does not apply to countries of Eastern Europe. Ask rental company personnel regarding their guidelines regarding allowed or restricted countries or areas.
In Switzerland, a driver must be a minimum 20 years of age and have had a valid driver's license for a year in order to rent a vehicle. Be aware that anyone under the age of 25 renting a car may have to pay a young driver surcharge.  It is required that a warning or hazard triangle be in the vehicle at all times, and authorities recommend visibility vests and a first aid kit as well.
Compare vehicles and pricing options with some of the most popular car hire agencies in Switzerland:
Be aware that rental insurance may be required depending on car hire provider. Required coverage typically involves third-party liability and fire. Optional coverage may also be available, including collision damage waivers.
It is recommended by car rental agencies in Switzerland that traveler's book a car in advance of expected arrival date to ensure that a vehicle is available upon arrival, especially during heavy tourism months in winter and summer.
Driving Regulations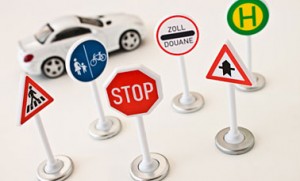 There's nothing quite like driving to Switzerland, but at the same time, it's important to be aware of the rules of the road. In Switzerland, you drive on the right hand side of the road. It's mandatory to wear seatbelts in the front and rear seats. Obey speed limits, which are readily and visibly posted in all locations.  In general, speed limits throughout the country are:
Town or city speed limit – 41 kph (31 mph)
Open roads (80 kph (50 mph)
Highways 120 kph (75 mph)
Mountain roads, especially through the Alpine region, can be scary for first-time mountain drivers. Take extra caution with the severe S and hairpin curves and use common sense regarding speed limit.
When it comes to parking, cities are equipped with "blue zones" that require a parking disc to be placed on the dashboard in those zones. You can obtain parking discs at police stations, gas stations, and motor clubs.
Do not drink and drive in Switzerland.  The blood alcohol content limit in the country is 0.5%, and any level over 0.8% will result in the confiscation of your license, coupled with very high fines and possibly even jail sentences.